In 2006, Adam released his second CD, "Insight," on the Ubiquitone label. This recording highlights Adam's innovative banjo playing both in solo settings and with accompaniment by Cathy Fink (guitar, banjo, bouzouki), Beth Williams Hartness (guitar), Mar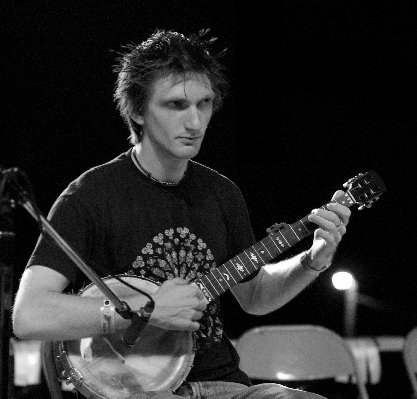 cy Marxer (guitar, mandolin, uke), and Jarred Nutter (fiddle). The selections found on this CD represent a surprising diversity of traditional Appalachian music, running the gamut from Round Peak stalwarts to stringband rags, from a Bill Monroe original to three Ed Haley tunes recorded on clawhammer banjo for the first time.

Following up on the success of "Insight," Adam spent a year refining and recording new material for his latest CD, "Perspective," which was released in the summer of 2009. The focus is once again on Adam's highly individual clawhammer banjo arrangements of traditional music, with able support from fiddler Stephanie Coleman and guitarists Beth Williams Hartness, Andy Edmonds, and IBMA Guitarist of the Year Kenny Smith. Adam's varied influences and sources are well represented on a collection of tunes from southern Appalachia and beyond, including selections from the repertoires of Marcus Martin, Ed Haley, and Bill Monroe.

In 2010, Adam collaborated with luthier David Hyatt and musician and recording engineer Paul Roberts to create "Earth Tones", a solo CD of compelling music played exclusively on the gourd banjo. This project has received critical acclaim from the banjo community as something altogether new and different, both among Adam's own recorded work and among the greater catalogue of old-time banjo recordings.

Most recently, Adam joined forces with his regular music partner Beth Williams Hartness on "Fine Times at Our House," a CD of old-time duets featuring Adam's clawhammer banjo and fiddle along with Beth's signature fingerstyle guitar. Their aim was to capture some of their favorite music as they play it at home for their own enjoyment; the result is a project that is at once intimate and enveloping. (Photo by Tim Brown ©2007)

Discography:
solo projects
-"Earth Tones" (Ubiquitone, 2010)
-"Perspective" (Ubiquitone, 2009)
-"Insight" (Ubiquitone, 2006)
-"Intrigue" (Copper Creek Records, 2002)
anthologies
-"Minnesota Fiddle Tunes Project" (Clawhammer Mike Productions, 2012)
-"73rd Annual Old Fiddlers' Convention" (Heritage Records, 2009)
-"Old Time Banjo Festival" (Rounder Records, 2007)
-"Banjo in the Clawhammer Tradition" (Jim Lloyd Productions, 2007)
-"Clifftop--Best of 2005" (West Virginia Division of Culture and History, 2006)
-"69th Annual Old Fiddlers' Convention" (Heritage Records, 2005)
participation on other projects
-"Angel's Perch" film score with Chris Eldridge, Rayna Gellert, Paul Kowert, Dominick Leslie, and Kristin Andreassen (2013)
-"Fine Times at Our House" with Beth Williams Hartness (Ubiquitone, 2012)
-"Chance McCoy and the Appalachian String Band" (Appalachian Music Group, 2008)
-"Headin' Up Elk Creek" by Jerry Correll (Heritage Records, 2008)
-"Banjo Talkin'" by Cathy Fink (Rounder Records, 2007)
-"Time Machine" by Dakota Dave Hull (Arabica Records, 2007)
Selected concert appearances:
-Harrietville National Bluegrass and Country Music Convention--Harrietville, Victoria (2012)
-Albuquerque Academy--Albuquerque, New Mexico (2012)
-Fire in the Mountain--Aberystwyth, Wales (2012)
-Somerset House--London, England (2012)
-Jalopy Theatre--Brooklyn, New York (2012)
-Charlotte Folk Society--Charlotte, North Carolina (2012)
-Rockbridge Mountain Music and Dance Festival--Buena Vista, Virginia (2011)
-The Garage--Charlottesville, Virginia (2011)
-South Broadway Cultural Center--Albuquerque, New Mexico (2011)
-The Kennedy Center--Washington, DC (2009)
-Durango Bluegrass Meltdown--Durango, Colorado (2009)
-West End Cultural Centre--Winnipeg, Manitoba (2008)
-FOAOTMAD Festival--Gainsborough, England (2008)
-The Birchmere--Alexandria, Virginia (2012, 2010, 2008, 2007)
-Brandywine Friends of Old-Time Music--Newark, Delaware (2007)
-Folk Music Society of New York--Brooklyn, New York (2007)
-Folklore Society of Greater Washington--Rockville, Maryland (2007)
-Appalachian String Band Music Festival--Clifftop, West Virginia (2006)
-Strathmore Hall--Rockville, Maryland (2006)
-FOOTMAD Fall Fling--Beckwith, West Virginia (2007, 2006, 2005, 2004)
Selected teaching appearances:
-Banjo Camp North--Charlton, Massachusetts (2013)
-Julian Family Fiddle Camp--Julian, California (2013)
-Kenosee Lake Kitchen Party--Carlyle, Saskatchewan (2012, 2011)
-Sore Fingers Summer Schools--Kingham, England (2010)
-American Banjo Camp--Fort Flagler, Washington (2012, 2010, 2009)
-Suwannee Banjo Camp--High Springs, Florida (2013, 2011, 2010, 2009)
-Midwest Banjo Camp--Olivet, Michigan (2010, 2009, 2008)
-Swannanoa Gathering--Asheville, North Carolina (2009, 2007)
-Augusta Heritage Center--Elkins, West Virginia (2007, 2006)
-Appalshop--Whitesburg, Kentucky (2006, 2005)